Purebred Arabian
Home | Iskandar Pedigree | Melayu, Sejarah Kuda Arab | Forum / Equine News | History - Arabian Horses | The Champion Family | Kaaba Pedigree | Family at Kelantan | Our Foals / Sale | Our Stallion | Endurance 2005
The Champion Family

Kaaba Khan dan tuannya Prof Dr Nik Omar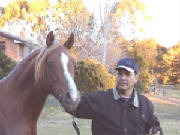 Gelang Mas, Meranti, Pasir Mas, Kelantan
Kesemua keluarga Kaaba Khan, 100 % adalah 'Juara' atau Champion baik diperingkat antarabangsa, Australia, USA atau di Europah. Dan boleh dikatakan kesemua anak-beranak Kaaba saperti adik, abang, bapak saudara, datuk, nenek, moyangnya adalah keturunan baka baik Arab Tulin atau Purebred Arabian dan berasal dari Arab Saudi dan Yamen - Darah / Strain A Seglawi Jedrani.
Oleh itu sesiapa sahaja di Malaysia yang ingin memiliki bapa baik ini, bolehlah menghubungi Purebred Arabian Horse Ranch, Gelang Mas, Meranti, Pasir Mas, Kelantan. Tel: 019-9401915
Berikut adalah foto adik-beradik dan keluarga terdekat Kaba Khan
The Family Album of Kaaba Khan
With close relatives
Myth to Reality
The Bedoiun tribes of the desert, believing that the horses are gifted from God, they told many romantic tales about the arabian horses.
That are some of our reasons why we selected Kaaba Khan and Amira Esteeka, the purebred arabian horses from Australia to be breed in Malaysia.
We found out that this horses are very gentle, affectionate nature, the striking look and proud spirit the breed is known for today.
When we are talking about the pedigree of Kaaba Khan, it's always well known for it finest Arabian bloodstock and an wonderful horses that the world had ever seen.

Kaaba Khan, Legenda Kuda Pure Arab Masakini


Kaaba Khan , The Champion Arabian Stallion in Malaysia 2004

Kaaba Khan trotting at Aracia, Australia


Kaaba Khan ( SH Shaklan Khan x Malmsbury Samira)

Kaaba Khan is clearly the heir to the "Dynasty of El Shaklan & Shaker El Masri" the world famous Arabian horses and won multiple International Champion awards. Kaaba is regarded as one of the best Arabian Stallion in Malaysia

Kaaba Khan kini berada di Pasir Mas, Kelantan dan sedia untuk memberi perkhidmatan terbaik untuk rakyat Malaysia yang meminati baka Kuda Arab Asli atau Purebred Arab.

Kaaba and his sister Safira


at East Cost, NSW Championship 2000

Safiyah, Kaaba's Sister


Safiyah ( SH Shaklan Khan x Malmsbury Samira)

Safiyah is the sister to Kaaba Khan by S.H. Shakla Khan x Malmsbury Samira. She has been 1998 Australian Champion Filly and East Coast Classic Head Champion as well as many other A and AA Class title. Her exotic type and lovely temperment delight all those who meet her. In 1999 Safiyah had a beautiful chestnut filly by T.S.Al Malik, Malikah

Madaan adalah anak kepada Sarezin, abang Kaaba


Madaan, Kaaba Uncle, Champion di Australia 2004

anak Kaaba Khan bersama sepupunya Ziaa


Kaaba Khan x Esteeka * Ziaa ( Sarezin x Miska )

This is another Pure Arabian at G.Mas Ranch


Jasmine is a beautiful dam, Kaaba New bride. Now in foaling with Kaaba Khan

S.K. Shakla Khan


The Father of Kaaba Khan

S.K. Shakla Khan


Kaaba's Sire, The Champion

S.K SHAKLA KHAN

(imp USA)

The International Champion S.K. Shakla Khan was imported from the USA in 1990. He is sired by Sanadik El Shaklan
son of EL Shaklan and his dam is S.K. Raindrop: a mare tracing to Raffon and Gainey breeding. He has been judged
Australian National Reserve Champion twice and has sired 10 Australian National Championship Title winners including
the 2003 National Champion Arabian Gelding, Fairview Shakla's Echo, and the 2003 National Champion Arabian Dressage
Horse, Scorchin. He has also sired 6 Reserve National Champions in Australia and overseas, including 2003 Reserve
National Champion Arabian Filly, Always An Angel, plus countless "A" Class show winning progeny.
He reliably produces exotic Arabian type crossed over the daughters of Amir El Shaklan.

Malmsbury Samira, Kaaba's Dam


The Australian Champion

Kaaba's Dam , Malmsbury Samira


As Foal she was already a Champion

Mazhar bin Sarezin


Kaaba's Nephew

Shala binti Sarezin


Kaaba's niece

Sarezin the elder brother of Kaaba Khan


Australian Champion, one of the leading Australia Sire

Hazeldean Amira Esteeka, Kaaba's bride


Amira Esteeka x Kaaba Khan = Kaali

Hazeldean Amira Esteeka

Breed: Purebred Arabian mare
DOB: 10-11-1997

Sire: Especial (Amir El Shaklan x Esperanza)
Dam: Amira Shaklyn (El Shaklan & Crabbett breeding)

Profile: Sweet-natured, calm young mare, dark chestnut with flaxen mane and tail. Her sire Especial is full brother to many Australian Champions. Magic Manto and Banderol feature in dam line, with another cross to El Shaklan. Esteeka has produced two lovely fillies. In foal to Kaaba Khan, full brother to Safiyah, twice Reserve Australian Champion. Foal will be sibling to Kaali (see below).



Anak pertama Kaaba Khan, Kaali ( Jantan )


Anak ini berada di NSW Australia

Kaali born 10.11.2002


Kaaba Khan x Hazeldeen Amira Esteeka

New Filly by Kaaba Khan


Lynden Franklin from Australia reported;

Kaaba Khan x Halzeelden Amira Esteeka has produced another baby, delivered her third filly in a row, her second by Kaaba Khan at 11.20 pm Friday Oct.15, 2004.

A pretty girl with a dished face, tiny muzzle, dark chestnut body, two white socks on the same side, attractive face marking, a star and a long, narrow, centred stripe down the nose.

Calm mother, already eating hay with very strong and beautiful baby.

The latest daughter of Kaaba Khan x Amira Esteeka


Kamala born on 15 Oct.2004

Look at the beauty of Kaaba Khan daughter


Kamala on the first day of birth (Kaaba Khan x Amira Esteeka)

Kamala is the second daughter with Esteeka


The typical face of Kaaba Khan, the future champion

Look at the beauty of Kamala age 7 weeks


Kamala ( Kaaba Khan x Amira Esteeka )

Hanya di tempat kami, Purebred Arabian Horse Ranch, Gelang Mas, Pasir Mas, Kelantan, satu-satu tempat pembiakan kuda baka arab tulin di Malaysia. Sila hubungi kami untuk 'pembiakan' atau breeding. Harga boleh dirundingkan.Tel: 019-9401915

Pedigree of Kaaba Khan

Sanadik El Shaklan

x

Sun King Raindrop

El Shaklan x

Mohena

Highlor Rainmaker x

Rasraffa

Skaker El Masri x

Estopa

Hadban Enzahi x

Morisca V

Amir El Shaklan(imp UK)

X

El Shaklan x

Sascha (imp Germany)

Gazarr x

Shiroya

Raffon x

Raswia

 

Shaker El Masri x

Estopa

Saher x

Smoky

Malmsbury Samira

( Kaaba Dam)

Kapehr (imp USA)

x

Sariah (imp UK)

Ansata ibn Halima x

Kamochli

Nasmekshnik x

Suda

Registration Certificate of

Purebred Arabian

Kaaba Khan

( S.K. Shakla Khan x Malmsbury Samira)

Born: 17th.Nov.,1997

Horse Regisrtarion No: S 19045

Blood Type COde: S 14487 Purebred Arabian

F 8179 Purebred Arabian

Strain: A Seglawi Jedrani

Brands: Bar over v, Es n.sh. 2 over o.sh.

Bred by: Lynden Janice Franklin & Verity J Smith

NSW, Australia.

For More details about this Family of The Champion, kindly visit:

Owned by: Prof Dr Nik Omar & Nik Badrul Hakim

Tel: 019-9444420, 019-9401915

Gelang Mas Purebred Arabian Horse Ranch

Pasir Mas, Kelantan, Malaysia.

Date of Registraion : 20th April 1998

The Arabian Horse Society of Australia Limited.

Kaaba Khan The Purebred Arabian Stallion Standing at Stud In Malaysia

| | |
| --- | --- |
| | Purebred Arabian - Pasir Mas, Malaysia |