Purebred Arabian


Arabian Horses In Malaysia
Perhaps, We Are The Only
Malaysian Arabian Horse Breeder
In Kelantan Darulnaim, Malaysia
Equestrian Information, Equine update, equiworld, Arabian Horses In Malaysia, thoroughbred, Wild Asiatic Horse, Kuda Padi, Crossbred, Malaysian Endurance, Horses For Sale, etc...
We Have 3 purebred
Arabian Stallion at our Stud Farm
Kaaba Khan, Iskandar Muda & Saddam Hussein
Visitors Are Welcome
Please call 019-9444420 or 019-9401915
Kaaba Khan, The Leading Arabian Sire in Malaysia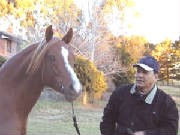 Pure Arabian Horse Ranch, Pasir Mas, Kelantan

Gelang Mas Arabian Horse Farm, Pasir Mas, Malaysia
wishes Selamat Datang ( Welcome ) to our new Young New Purebred Arabian Stallion
Ibnu Shaklan @ Ahnshahn Ahmahni
( Willowvale Picasso x Hideaway Farm Insignia)
Ibu Shaklan @ Ahnshan Ahmahni was born on 23 Oct 2002 at the home of Ahnshan Arabian Horses, just west of the sunshine Coast of Queensland, Australia. It was very clear from the moment he stood and looked over the new world that he was to become an exceptional purebred arabian colt.
His out standing sire, Wiilowvale Picasso (Imp/Exp NZ) is a National Champion Junior colt in both Australia and New Zealand, and his dam, Hideawy Farm Insignia, is one of a very few daughter of great grey Egyptian Stallion DASSEFFA ( Exp Saudi Arabia).
Ibnu Shaklan is therefore impeccable and imprint of his forebears, across the generations of excellent Arabian Horses. Ibnu Shaklan is the masterpiece of pure desert horse. He is indeed a tribute to the breed, and has distinguished himself at every show he has contested since 2003.
He is ranked at oinnacle of his showing career. Ibnu Shaklan is the Australian National Championships for the Arabian Horse in 2005, as a TOP TEN, out of a class of fifteen superb young colts. He is a truly great Arabian horse, a true champion in all respects.
His chow recored is incredibly impressive for such a young horses - he has been recognised consistently as belonging to the top end of scale of Excellent Purebred Arabian Horses. Under the professional eye of many international (6) and top Australia judges for Arabian Horses, Ibnu Shaklan has excelled.
Ibnu Shaklan Australia Show Recored 2003-2005
2003 " Toowoomba Top of The Range" -A Class Show - Champion Junior Colt and Winner of the 'Tribute To Odenuel Plate and Sash" at 12 months of age.
2004 - " East Coast" (AA Class Show) - arguably the top Arabian Horse Show in Australia.
Top Five Junior Colt.
2004 - Queensland State Title For The Arabian Horse Challange Show" Judge Mrs Judith Forbis (USA)
First Yeraling Colt Class
Reserve Champion - Amateur Owner / Handler Class
Top Fice Junior Colt. Challange Show
2004 - Toowoomba Top Of the Range Show - A Class Show, Champion Junior Colt again and
Supreme Purebred Arabian Exhibit
2005 - East Coast (AA Class Show) Reserve Champion Classic Head; Reserve Champion Classic Trot and TOP FIVE. The other contestants were ALL outstanding Purebred Arabian Horses- Arguably, a selection of the best Purebred Arabian Horses in Australia.
2005 - Again , Ibnu Shaklan is The Australian National Arabian Title: 'TOP TEN' fourth in a class of 15 horses.
Now, Ibnu Shaklan is in Malaysia to join our family of Arabian Stallion at Gelang Mas Purebred Arabian Horse Farm ( Stud Farm), the only one at Malaysia.
Ibnu Shaklan has inherited the refines and reserved excellent temperment of his brilliant sire- Willowvale Picasso. He is a responsive and intelligent colt. He exhibits extreme type: He is a great natural beauty of turely Egyptian, Polish & German Arabian with extremely dry head, remarkable eye, graceful neck and exquisite movement. He is a highly competitive colt.
Ibnu Shaklan - Equine Excellence
Purebred Arabian Registration Certificate - From Australian Arabian Horse Society - Name: Ahshahn Ahmahni Retg No: S 22586
SCID Free DNA Analysis Report by VetGen Laboratory Genetic DNA Sevices, NSW, Australia. Dated June 16, 2005
Iskandar Muda @ Rianda's Shai-Haan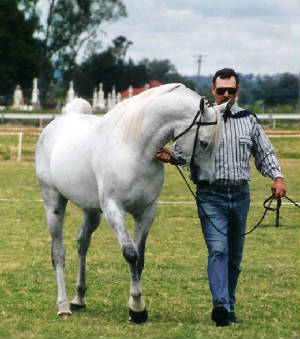 Straight Egyptian Stallion at Pasir Mas, Malaysia

Iskandar Muda, Purebred Arabian Stallion


Kini kuda ini berada di Gelang Mas, Pasir Mas, Kelantan

Iskandar Muda

Legenda Kuda Arab Masakini

di Malaysia

Rianda's Shai-Haan with his new name

Iskandar Muda is Now The Legend Arabian Stallion in Malaysia

From the moment he was born Iskandar Muda @ Rianda's Shai-Haan was destined to change lives, he would continually prove pages full of achievements as a a supreme Straight Egyptian Stallion and the history books will be filled with her progeny awaiting the signature stamp of future generations. Born on the 9th of November 1992, Iskandar Muda @ Rianda's Shai-Haan has shown his greatness inherited from his sire the great champion of Simeon Seren ( Simeon Shai (Exp USA) x Fayrooz (Imp Germany ) Iskandar Muda a alone could fill pages with his show and breeding accolades. Iskandar Muda has a very pretty head with large eyes that he pass on to his progeny

Up till now Iskandar Muda @ Shai-Haan has produced more than 26 progeny in Australia and New Zealand. His beautiful colt Matador Falaan in New Zealand is doing well at the shows. Previously Iskandar Muda has sired 2 Australian Top Ten Colts.

Iskandar Muda @ Rianda's Shai-Haan once described as "typey and beautiful" is just that and his foals in Australia are extremely uniform and consistent in type. For the breeding farms that have incorporated his lines, Shai's species type shows in the continuing and consistent array of championships that are collected at major Arabian shows. The influence of "that Shai pedigree" is so famous that solidifying for Australia his unique hallmark of type. In the USA it is obvious that the great grand sire of Iskandar Muda , Simeon Shai has also made an indelible mark with his progeny and now grand progeny, they have more than lived up to expectations proving that this stallion is not only an exceptional show horse but sire as well. His destiny was indeed greatness... a great show horse... a great personality... a great sire!

Now, Iskandar Muda@ Shai-Haan is imported to Malaysia and will be joining our fleet at Purebred Arabian Horse Farm at Gelang Mas, Pasir Mas, Kelantan, Malaysia. I am very certain that Iskandar Muda @ Shai-Haan will maintain his family titles who has gathered an impressive group of championships at Australia and of course the great sire of Iskandar Muda that is Simeon Shai was exported to USA in 1989 and in 1991 Shai swept all before him and was awarded Scottsdale, Canadian and US National Champion Stallion, then went on to become World Champion Stallion at Salon du Cheval, France.

I have no doubt that Iskandar Muda @ Rianda's Shai-Haan like his pedigree, will be the great and The Legend Straight Egyptian stallion in Malaysia for year 2005

From Stud Book of

Arabian Horse Society of Australia

Horse Detail

Name of Horse: Rianda's Shai-Haan S15843

New Malay Name: Iskandar Muda

Breed: Purebred Arabian DOB: 9 Nov 1992

Color: Grey Purity: 100 % pure arabian

Straight Egyptian. DNA: D69040

Sire: Simeon Seren (Raadin Royal Star (Imp USA) x Fayrooz (Imp Germany)

Dam: Rianda's Raslina ( Sir Ibn Moniet (Imp USA) x Kalicia

Arabian Horse in Malaysia

( Kaaba Khan - The Legend Arabian Stallion In Malaysia 2004)

Kuda Arab di Malaysia

With passion and dedication, Purebred Arabian Horse Ranch at Gelang Mas, Meranti, Pasir Mas, Kelantan, Malaysia is proud to announce that we have decided to breed Pure Arabian in Malaysia....

We believe it is essential to produce an Arabian that is a good horse and a beautiful Arabian for show, dressage, racing and especially for edurance in Malaysia.

From the time that Arabian horses became our passion, we started searching for the perfect Purebred Arabian and decided to go to Australia and get our great Stallion ' Kaaba Khan' - ( SK Shahklan Khan x Maimbury Samira), both the sire and the dam are The great Champion in Australia.

5th Generation of Shaker El Masri

( Kaaba Khan Sire )

The World Champion Arabian Horse

Kaaba Khan

SH Shakla Khan

Sanadik El Shaklan

El Shaklan

Shaker El Masri

Almost all Family of Shaker El Masri ( SEM) are either

Australian, European & World Champion

Australian Champion

Kaaba Khan - New South Wales, Australia Champion Colt year 2000,

East Coast Australia Reserve Champion 2001

Sarezin - Kaaba's brother - Australian Champion 2000. Breed:Lynden J Franklin & Verity J Smith, Elmridge Stud, NSW,Australia

Safiyah - Kaaba's sister - Australia Champion: Breed by Lynden Franklin & Verity Smith

Madaan - Kaaba's Uncle - Australia Champion Breed: Vanessa , Syrah Arabian, Australia.

For more detail, kindly visit:

World Champion

El Masra - ( SEMasri x Estopa),World Junior Champion Mare - Breeder Om El Arab

El Shaklan - ( SEM x Estopa), World Champion Res - Breed: Om El Arab

Canila -(SEM x Casablanca), World Champion Mare. Breed: Dr Immisch

Ibn Estopa ( SEM x Estopa) , World Champion. Breed: Om El Arab

Estara ( SEM x Estopa ), World Champion Mare, Res. Breed: Om El Arab

European Champion

El Shaklan ( SEM x Estopa) European Junior Champion: Breed: Om El Arab

El Masra (SEM x Estasha) Triple European Champ. Mare : Breed: Om El Arab

Estawa ( SEM x Estopa) Twice European Champion Mare: Breed: Om El Arab

Bint Shaker (SEM x Estasha) European Champ Mare.Res. Breed: Om El Arab

Canila ( SEM x Casablanca) European Champ Mare Res : Breed: Dr Immich

Ibn Estopa (SEM x Estopa) European Champion Stallion Breed: Om El Arab

Estasha (SEM x Estopa ) European Champ Mare res: Breed: Om El Arab

Australia Leading Pure Arabian Sire, Kaaba Khan


Now in Malaysia at Gelang Mas, Pasir Mas, Kelantan




Kaaba Khan

Breed: Purebred Arabian stallion
DOB: 17-11-1997

Sire: SK Shakla Khan (imp. USA) Twice Reserve Australian Champion
Dam: Malmsbury Samira (Australian Champion)

Profile: Kaaba Khan is a worthy representative of his top-performing Arabian family. His older siblings at Elmridge are his beautiful full sister Safiyah, twice Reserve Australian Champion, in 1998 and 2002, and his maternal half-brother Sarezin, 1999 Australian Champion Stallion. Kaaba has won awards under international judges, including Champion Colt at the 2000 NSW State Titles.

Twice an Australian National Arabian Championships finalist as a colt, Kaaba Khan has not been exhibited at the Australian Championships as a stallion, though he is qualified for entry. Judges praise his body, head, type, beauty, excellent overall conformation and charismatic movement.

Kaaba is easy to handle, a gentleman at stud and a proven improver over both purebreds and derivatives.

Kaaba Khan, The Legends of Pure Arabian Stallion in Malaysia

Kaaba Khan is a proven bloodlines that are paramount to a successful breeding program.

When choosing for a Pure Arabs Stallion for breeding, please notes that:-

It is not unusual to hear the Arabs say:" Choose and choose yet again the sire.:
The Arab do not see any drawback to the stallion's being less height than the mare, provided that he is pure-bred and has perfect conformation. They always place the qualities of bottom, speed and sobriety ahead of that conventional beauty which never fail to seduce us. Thus a fat, sleek, and rounded stallion, who owes his loveliness only to too much food, laziness, or inaction greatly arouse their suspicions. They say of him, " Let us not be in hurry, let us see what he can do. Perhaps it is a question of his waering a lion's skin over a cow's frame."


----------------------------------------------------------

Malay Version

----------------------------------------------------------

Biodata Kaaba Khan

Legenda Kuda Arab Pure di Kelantan

Status: Stallion Yang Gagah

Tugas di Malaysia: 1. Perkhidmatan Baka 2. Enduran

Baka / Breed: Purebred Arabian Stallion

Tarikh Lahir: 17-11-1997

Bapa: SK Shakla Khan (USA) Dua kali Reserve Australian Champion

Ibu : Malmsbury Samira ( Australia Champion )

Keturunan: El Shaklan

Strain: El Seglawi Jedrani

Dimiliki Oleh: Nik Badrul Hakim & Dr Nik Omar

Tempat Tinggal Sekarang: di Purebred Arabian Horse Ranch, Gelang Mas, Pasir Mas, Kelantan.

Profile: Kaaba Khan telah mencipta satu legenda baru dalam dunia kuda di Malaysia. Kaaba telah menjuarai beberapa pertandingan di Australia, antaranya 'Champion Colt' di New South Wales pada tahun 2000. Pada tahun yang sama sekali lagi Kaaba telah dipileh oleh para Hakim yang diketuai oleh Christina Wales dipertandingan NSW State Show, sebagai 'Champion Colt'

Pada tahun 200 dan 2001 Kaaba telah menjuarai Australian National Championship sebagai 'Champion Colt'

Pada tahun 1999 Kaaba pertama kali dipamerkan dipameran AA National Arabian Stud Horse Show dan dia memenangi kategori 'Colt' pada usia 2 tahun.

Menjejaki langkah bapanya SK Shaklan Khan juga banyak memenangi dan menjuarai berbagai pertandingan baik di Australia mahupun di Amerika Syarikat.

Adik betina Kaaba, Safiyah telah dua kali menjuarai kejohanan 'Filly Terbaik' pada tahun 1998 dan 2002. Pada tahun 1999 abang Kaaba , Sarezin telah dipileh sebagai Australian Champion Stallion.

Dengan menjuarai perbagai kategori pertandingan, Kaaba Khan sememangnya layak digelar 'Legenda Kuda Arab Malaysia tahun 2004' atau "The Legend of Arabian Horse in Malaysia 2004'

Fakta & Figura

Setiap ekor anak kuda Kaaba Khan telah dijual dengan harga tidak kurang dari RM 20,000.00 seekor. Oleh itu dengan hanya RM 2 ribu sahaja anda akan mendapat seekor anak kuda Arab yang sudah pasti, anda mengenali kualitinya yang terkenal sebagai Keluarga Champion.

Baka Kaaba Khan ialah untuk:

1. Enduran / Endurance

2. Berlumba / Racing

3. Dressage

4. Pertunjukan / show

Untuk mendapat benih kuda Pure Arab ini sila hubungi kami dengan kadar segera.

Asrama / Penginapan

Hotel Kuda & Tuanpunya Kuda

Yang datang dari Jauh

Asrama / Penginapan untuk tuanpunya kuda dan juga Hotel untuk Kuda anda ( stable) disediakan di tempat kami di Pure Arabian Horse Farm, Gelang Mas.

Setiap kuda betina yang hendak dimasukkan benih (baka) hendaklah ditinggalkan di ladang kami selama sekurang-kurangnya 4 hari.

Makan minum kuda tuan/puan 4 hari adalah percuma.

Sila ambil perhatian:

Kuda dan anak kuda tuan/puan yang ditinggalkan diladang kami selama ingin dikahwinkan adalah atas tanggungan tuan/puan. Pihak ladang kami tidak bertanggung jawab diatas sebarang kemalangan, kecederaan, luka, kehilangan atau kematian keatas kuda betina atau anak kuda yang tuan/puan tinggalkan diladang kami.

Bayaran Asrama tuanpunya kuda RM 25.00 setiap seorang ( asrama sahaja )

Contact Us

Prof Dr Nik Omar or Nik Baderol Hakim

Purebred Arabian Horse Ranch

Gelang Mas, Meranti, Pasir Mas, Kelantan.

Tel: 019-9401915, 09-7972948

Purebred Arabian - Pasir Mas, Malaysia